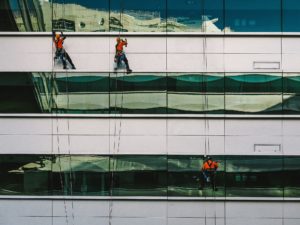 High Angle Rescue
A rescue done on a terrain that has a high slope angle of about 65 degrees and greater is considered as High Angle Rescue. Most or all the rescuers' weight is taken up by the rope system, and the rescuer may be entirely suspended. High angle may also refer to vertical situations, such as rescuing a highrise window cleaner off the side of a building or raising a maintenance worker out of a man hole.
Confined Space Rescue
The techniques used by our operator requires strict and essential safety procedures prior to entry into such spaces. Our operators work in a variety of confined space environments, both onshore and offshore, such as silos, storage tanks, access shafts, chambers and pipes. The need to access confined spaces is required for a variety of tasks including inspection, maintenance, repair and cleaning.
Our operators are highly skilled in delivering complete confined space access and rescue plans, complemented by their expertise in industrial rope access techniques. Our operators are knowledgeable in the legislative requirements of confined space entry and use the advantages of industrial rope access techniques to safely fulfil these requirements.